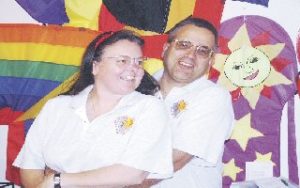 Gretchen and Ted Howard created Rainbow Flight as a shop in November 1992. This was after 2 years of selling kites at the local arts and craft market and running monthly kite days.
Outside of shop time, Gretchen teaches Middle Eastern Dance, is the director of Zenda Middle Eastern Dance Troupe, and past president and treasurer of MEDANZ the Middle Eastern Dance Association of New Zealand, check out the MEDANZ website.
Both Ted and Gretchen have been active in the Nelson Peace Group since 1991.
Ted is co-founder of the Nelson Peak Oil Study, Support and Action Group, on the executive committee of ASPO-NZ Inc. (http://www.aspo.org.nz/) and is keenly interested in community solutions and his backyard permaculture garden.